– News from professional fly fishing photographer David Lambroughton with lovely New Zealand images, my new postage and artwork prices, Ed Herbst writes on the role of posture in sunken fly patterns and on Bill and Kathi Morrison of Bear Lodge Angler, gear for sale, lovely fly fishing images from Andrew Fowler and Rory Logan and more…
News and images from David Lambroughton
Click in images to enlarge them
Hello from a beautiful Spring Day in B.C. that's screaming yard work, spring cleaning, spring skiing, and golf at me at the same time. It's all helping me re enter society after another (35th) Trout Season in New Zealand.
This past season, just for fun, I did a weekly posting with photos/words on my Facebook Timeline that covers the full season on both Islands and it is open to everyone. By scrolling down through it you'll see all the stops and why I can't imagine not spending 4-5 months down there every year. Every season we learn a few more tricks and find a few more streams to love and also experiencing that lovely wonderment of what's around the next bend and I love tying flies on with fingers that are trembling for the best of all reasons.
Here are a few shots from this past season that caught my eye and in them you'll see water that pushes all the right buttons in 64 year-old me.
I love the smaller streams, especially in well browsed sheep country where walking up a river is like walking across your front lawn and you can run up or down a gravel bar chasing a fish without paying much attention to your feet on the baseball-sized rocks.
Add to this some somewhat predictable hatches, nice green willow banks for backdrops that help you see your small dry or pea sized indicator on a nymph and I'm 'Happy as Larry' as they say in Kiwi Land.
The fish won't generally be as large at the specimens you MIGHT find from sand fly-filled (not always) backcountry waters, via long hikes or helicopters, but hot 3 to 6+ pounders on a 4 or 5 weight rod are enough for me, especially when the next 'victims' are just waiting in the next pool or run upstream…more fishing, less hunting and fewer river miles.
Ed Herbst writes on Bill and Kathi Morrison of Bear Lodge Angler:
As South Africans are only too aware, the country is experiencing an intractable electricity supply crisis which results in often daily periods of several hours without power and if this load shedding occurs at night, fly tying becomes difficult.
As I suffer from poor eyesight and cannot tie without magnification I use the Optivisor. So when I heard about the Quasar Lighting System, six battery-power LED lights which fit around the magnifying lens of the visor, I realised that this would be a significant help during the power cuts.
When I was unable to obtain it through the Optivisor local agents I contacted Bear Lodge Angler in Worland, Wyoming, a town on the banks of the Big Horn River. Bill and Kathi Morrison, proprietors of Bearlodge Angler are a wonderful couple who, for more than twenty years, have procured for me esoteric materials, tools and hooks which I could not acquire in South African. On their website they specifically mention this factor: "WE LOVE SPECIAL ORDERS! If you don't see something listed on this website just ask and we will do everything possible to get it for you!"
http://www.bearlodgeangler.com/
The parcel which was sent by United States Postal Service took five days to get from Worland to Johannesburg and two weeks later it was delivered to me at my home in Cape Town by the customs department.
It included not one but two items because Bill had found another, a magnifying visor which is made in China and it includes a built-in battery-powered light. Bill and Kathi always walk the extra mile and Fred Steynberg, the Rhodes-based guide who also runs a fly fishing shop in his home' has also dealt with Bear Lodge Angler for years.
The postage cost exceeded the value of the posted items, but I don't care because, with the help of rechargeable auxiliary lights and my visors I can now continue my fly tying during electricity blackouts.
I will be doing a review of these lights shortly for my column on this website on fly tying tools.
A tired Bill Morrison after a day of rowing a drift boat on the Bighorn River in Wyoming
News on postage and my artwork
I have always sent my books and commissioned art to clients with packaging and postage included in the price, but I can no longer do this. The GPO parcel post costs recently doubled and the cost of packaging has gone up. I will be adjusting my website to reflect this.
I recently decided to increase the price of my pen and ink sketches and watercolour paintings and my website now reflects that the price is now on application as it depends on the subject of the work and its size. This was after realising the amount of time I put into art I do hardly makes it worthwhile endeavour for me at the old prices. All outstanding commissions I am busy with will be at the old prices.
I will also soon be doing a few oil paintings of trout and fly fishing scenes!
Liam Surridge reports on fly fishing around Perth
Says Liam:
Freshwater fly-fishing has taken a bit of a backseat. I am making the most of the abundance of good saltwater fly fishing opportunities that abound here. Attached are some pictures from an afternoon out off Perth – the winter salmon run is in full swing.
Andrew Fowler wrote recently and said…
Herewith a few selected photos, just in case you had any doubt about heading up to Rhodes this April/May. Quite honestly the photographic opportunities were so appealing that they tended to limit my fishing!
1. The Kraai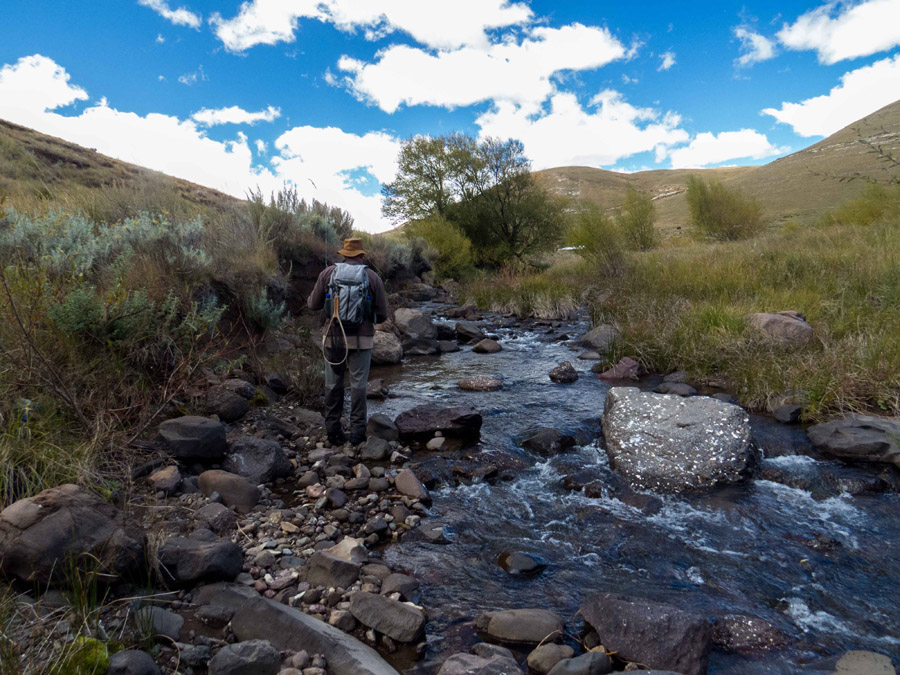 2. The Bamboeshoekspruit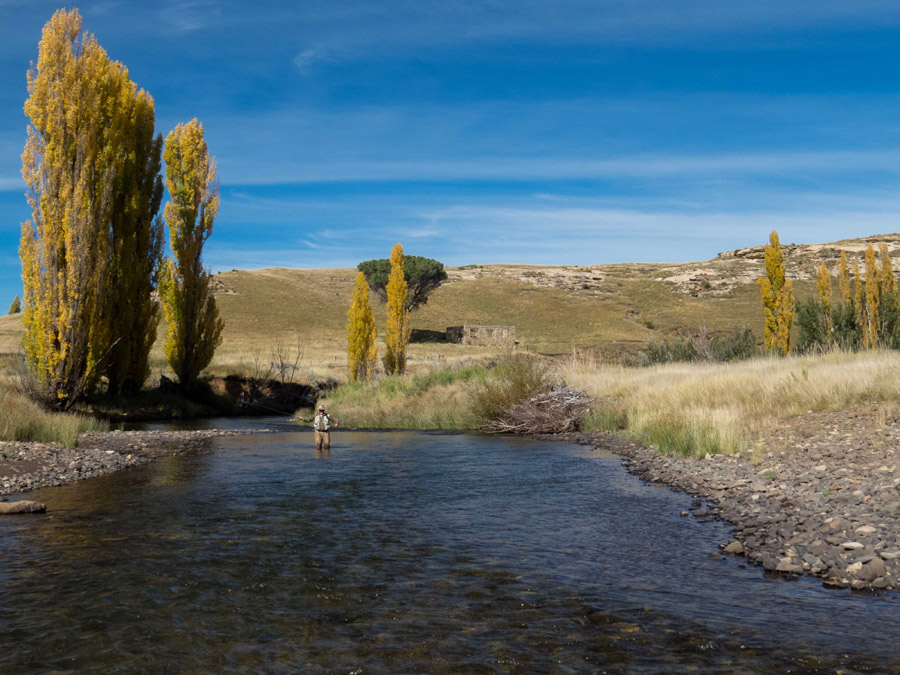 3. Carabas on the Bokspruit
4. A rainbow over the Sterkspruit on Birkhall
5. The upper Bokspruit
I replied to Andrew:
'I know the feeling trying to balance cameras, landscapes and fly rods up in Rhodes. But I also know those rivers pretty well. I'm sending two of my own images by return email that I think were taken at exactly the places you took your shots!'
And, as it turned out, I was 100% right! See my shots below:
The Sterkspruit on Birkhall (see 4 above)
The upper Bokspruit at the summit of the Drakensberg (See 5 above. Taken less than 50 metres above the same spot.)
It seems you can get to know a place too well when you recognise individual runs on a river!
Also, have a look at Andrew's delightful fly fishing blog, Waters and Words, on http://truttablog.com/
Quote of the week
I was given a book by Duncan Brown at our recent fly-fishing lunch. He is author of Are Trout South African? The book he gave me is called The Art of the Commonplace, a collection of essays by Wendell Berry that plead convincingly for an agrarian alternative to our modern, hyper-dominant urban culture, in other words, all that isn't like the untouched, still, tree-shaded banks of your favourite and most remote fly stream. The book came with one of Wendell Berry's poems. I hope you enjoy it.
The Peace of Wild Things
When despair for the world grows in me
and I wake in the night at the least sound
in fear of what my life, and my children's lives might be,
I go and lie down where the wood drake
rests in his beauty on the water, and the great heron feeds.
I come into the peace of wild things
who do not tax their lives with forethought
of grief. I come into the presence of still water.
And I feel above me the day-blind stars
waiting with their light. For a time
I rest in the grace of the world, and am free.
I return, I gave Duncan a copy of Savage Gods, Silver Ghosts: In The Wild with Ted Hughes by Ehor Boyanowsky about fishing with the British Poet Laureate, the late Ted Hughes. They became friends through their shared and unquenchable passion for fishing.
Images of the week
Grant Visser posted Jan Korrubel some images of a pretty Drakensberg fly stream taken by his fishing partner, Rory Logan.
Fly tying doesn't get much better than this …
This perfect example of the Para-RAB was tied by Gordon Van Der Spuy. It's a pattern has earned respect on Western Cape fly streams as well as in certain states in the USA. This perfect example was tied by Gordon Van Der Spuy.
Gear for sale
Bruce Ambrose writes:
I have the following brand new fly tackle never used:
Sage TXL-F 7'10" 4wt fly rod, Sage Click IV fly reel, backing and Rio fly line, Wychwood River & Stream 4-wt fly reel in leather case with backing and Rio fly line. All are brand new in the box.
I would like to get R 7 500 for all three. Contact me at This email address is being protected from spambots. You need JavaScript enabled to view it.">This email address is being protected from spambots. You need JavaScript enabled to view it.
The role of posture in sunken fly patterns by Ed Herbst
In the past fortnight I have listened to two fascinating accounts of how marine fish that target crabs as their staple diet will turn away from a crab pattern which is tilted or lying on its side.
The first was from Riaan Heyns who, at the Stellenbosch lunch, which Tom Sutcliffe wrote about in a recent newsletter, described how triggerfish in the Seychelles would veer away from a crab imitation which did not exactly imitate the posture of the real creature it was meant to mimic.
The second was at last week's Vice Squad meeting at the Cape Piscatorial Society in Cape Town.
It is a monthly event organised by Tudor Caradoc-Davies, a freelance journalist who is a recent recruit to the Society's committee and is bringing a great deal of positive energy into the Society.
It was a really enjoyable occasion, full of banter and badinage but immensely useful to the fly tying enthusiasts present.
The format is that four tyers take it in turn to demonstrate a particular pattern and on this occasion they were the Master of Ceremonies, Gordon van der Spuy tying his Sparse Damsel;
Gordon van der Spuy (above) ties for the Vice Squad and the Sparse Damsel Nymph he demonstrated (below).
I then tied my Zonker Strip Lakenvlei Dragon which seeks to imitate two of the staple items in the diet of stillwater trout in South Africa, crabs and dragonfly nymphs, which I will describe in a forthcoming article on this website;
Two views of Ed Herbst's Lakenvlei Dragon
I was followed by sculptor Chris Bladen who tied a very sparse Clouser using calf tail instead of bucktail and which has seduced a variety of predatory marine fish.
To me, however, the most fascinating demonstration was given by Jimmy Eagleton who, with good reason, is known in local fly fishing circles as "Jimmy the Shark Man"
http://globalflyfisher.com/fishbetter/sharks/
Jimmy has spent years refining the technique of catching guitarfish, also called fiddler rays, but which South Africans call sand sharks.
The sand shark, like a sole, has its eyes on top of its head directly over its mouth which is on the bottom of its head. As I understand it, this means that the sand shark loses sight of its prey when it is above it and, to locate it, the fish drops onto the crab or other prey, trapping it by enveloping it within the two 'wings' at the side of its head. It then locates the crab by feel and effectively inhales it by drawing water through its gills.
Jimmy says that this inhaling action is marked by small particles of sand being expelled from the gills.
As you are sight fishing it takes a lot of skill and experience to time the strike correctly
Sight-fishing a sand shark. The fish is clearly evident– photo by Tom Sutcliffe
Hooked in the ray it won't fight as well as when hooked in the mouth – photo by Tom Sutcliffe
Leonard Flemming with a good specimen – Tom Sutcliffe photo
As Jimmy explained, if you foul hook a sand shark, it just folds up and becomes a dead weight whereas if you hook it in the mouth it will put in one strong run which will take it to the breakers and you into the backing. It then turns back because beyond the breakers it will become vulnerable to sharks.
So how does one tie a pattern for sand sharks which sits flat and foursquare on the sand?
The answer is disarmingly simple. Instead of following the conventional practice when using bead chain eyes i.e. a bead on either side of the hook eye, the new sand shark pattern uses four beads, two on either side of the hook eye. This stabilises the fly and ensures that it does not tilt to the side.
A four bead Sand Charlie (above) and a sand sharked successfully hooked in the mouth (below). Photos from Jummy Eagleton.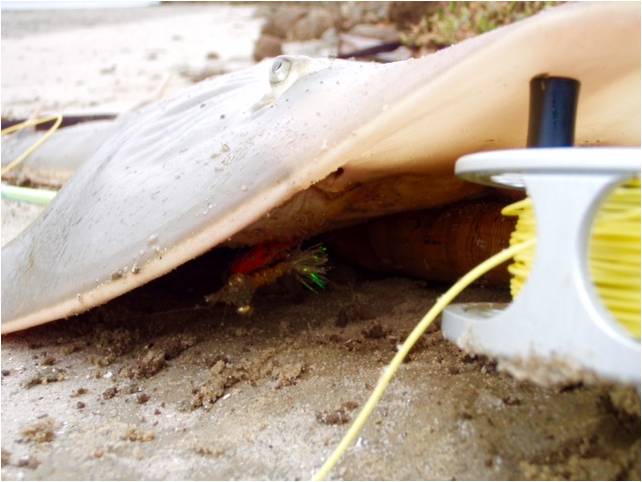 It was after watching Jimmy Eagleton tying the sand shark pattern that I read an article on the Midcurrent website about Lance Egan's 'Headstand', a carp pattern which is specifically designed to sit hook eye down on the mud flats where carp forage for bloodworm and other forms of prey.
I immediately forwarded the link to the doyen of South African carp fly fishers, Sean Mills and his response was interesting because for more than 20 years his Carp Fritz has been the preferred choice of local fly fishers who target carp. Says Sean, 'My Carp Fritz also sits like that. I tie them with bath chain eyes for that purpose and a curved hook that is used for bait fishing for carp makes the fly strong enough to withstand their surges once hooked. Egan's fly looks interesting but carp flies, because they are fished on the bottom, are very easy to lose. This is why I prefer very simple flies that use a minimum of materials and are easy and quick to tie.'
The Carp Fritz by Sean Mills
You can see an example of Sean's E-book, 'The Extreme Guide to Fly Fishing for Carp' on his website.
http://seanmillsflyfishing.weebly.com/
And finally, why Klipspringer hair floats so well
A piece of dyed yellow klipspringer skin. Note the lovely colour variety in the fibres.
I found this electron microscope cross-sectional image (above) of a single klipspringer hair. Note the many segmented compartments. No wonder the stuff gloats like a boat!
Tom Sutcliffe