Not three Wise Men bearing gifts; rather, three Wise Anglers hidden in Christmas trees!
From Hugh Rosen in La Jolla California
Hugh is a highly respected medical research scientist and a keen fly fisher and fly tyer who often graces this column with his articles. He sent this lovely image he took of two classic dry flies on a Wheatley fly box, a Kite's Imperial in grey (left) and an Olive Variant (right).
Click in images to enlarge them
To get the shot, Hugh used a Nikon D610 camera with a 105 mm Nikkor macro lens, stopped right down. He set the camera on a tripod with the mirror locked up and used a cable release to allow for a really long exposure.
From my friend Robin Douglas who lives on the outskirts of Somerset West
Says Robin:
Guess who I caught having a slither across my lawn on Saturday? I managed to catch him safely and got him into a bucket and delivered him to the grateful hands of Nature Conservation at the Helderberg Nature Reserve. Needless to say, Rose now looks at her garden with a slightly jaundiced eye.
From Damon Mathfield
Says Damon:
Still trying my underwater shots when I get out fishing, here in New Zealand. Attached is an image of a rainbow I caught on the Pokaiwhenua River in the North Island. The Pokaiwhenua rises in the hills near Tokoroa and flows northwest to enter the eastern shoreline of the manmade Lake Karapiro. It was caught on the dropper fly while Czech nymphing. The fly was a green, Gold-ribbed Hare's Ear variation, with CDC.
TS: I have featured Damon's photographs in previous newsletters. Here are a few more examples of his excellent camera work:
A perched damselfly
Study in black and white
On Sterkfontein Dam
Conditions in the Eastern Cape Highlands
It is still very dry in the Rhodes and Barkly East districts. To illustrate the crisis, Basie Vosloo sent this photograph of the Sterkspruit River, where all you can see is the sandy riverbed with two puddles of water either side. Below his photograph is one that I took at roughly the same spot on the Sterkspruit back in October 2012.
The Sterkspruit River just a week ago. Photo per Basie Vosloo.
The same spot on the Sterkspruit in October 2012.
The Bokspruit is better off, I'm told, and the river up at Gateshead, though very low, is apparently still fishable.
Strangely enough, good rains have fallen on the eastern side of the Drakensberg inland of the towns of Ugie and Maclear, less than 80 kilometres away, where, from what I hear, the rivers are fishing well. In fact, my friend Brian Hammond tells me that he and Basie Vosloo crossed the Drakensberg on horseback last week, from Gateshead to the Maclear district. He said it was like going from a desert into a lush green landscape that divided abruptly on the summit! And on the Maclear side of the 'Berg the rain came bucketing down at one stage.
View of the summit of the Drakensberg on horseback, with the source of the Bokspruit in the background. Photo Tom Sutcliffe
All is not lost, though. The fitter trout hole up in the few big pools left in the rivers, or move downstream into the Kraai, where there is still enough water to hold trout, and even provide some fishing. But when the rains do come, and they will, these rivers recover miraculously well. I've seen it a few times myself over the last 20 years.
From Andrew Fowler in KZN
Says Andrew:
The last two Saturdays I have ventured onto the very lower Bushman's River, largely in view of the drought, and in the hopes of finding water down there. I also fished the same stretch a few times last season. We were fishing about 3 to 5 kms below the Incibidwane Clinic in the tribal area.
The lower Bushman's River, above and below
Although there's a lot of an algae around, we did indeed find water. Graeme Steart got a lovely fish, but yesterday with Jac Aldous, we struggled, and apart from some very small yellows, we didn't come right. Maybe it was on account of the very warm water (17 °with Graeme, 24.5 °with Jac!).
Graeme Steart's brown trout from the lower Bushman's River
The river certainly is big down there, and if you were going to land a 5 pound brown from a river, my money would be on that stretch! The problem would be catching the river when it is clean, as there is a lot of rural development and erosion upstream of that point.
Quiz – answers at the end of the newsletter
1. GEM Sues wrote fly fishing articles under which of these noms de plume?
Val Conson; Integer Vitae; A Limity Dincombe; SAS (Seaforth and Soforth); Spent Naturalist; WAG.
2. Skues corresponded for many years with Theodore Gordon (the famous Catskills fly fisher who developed the Quill Gordon dry fly). Yes or no?
3. Frank Sawyer was introduced to GEM Skues and they corresponded. Yes or no?
Quotes of the month
Arnold Gingrich on brown trout:
To vary the figure, the wiles you must exercise to seduce a salmon are tantamount to picking up an out-of-town buyer during market week, while luring a brown trout is like getting a demure colleague on the Sunday-school teaching staff of your church to pack up and run away with you.
From The Well Tempered Angler (1973)
G E M Skues on nymphing:
The indications which tell your dry fly angler when to strike are clear and unmistakable, but those which bid a wet-fly man to raise his rod-point and draw in the steel are frequently so subtle, so evanescent and impalpable to the senses, that when the bending rod assures him that he has divined aright, he feels an ecstasy as though he had performed a miracle each time.
From Minor Tactics of the Chalk-Stream (1910)
Lee Wulff on pretty casting:
Fly casters have long been judged by smoothness of line flow and easy grace of movement, even when changes of direction are involved... An angler's form in casting may be important to himself and other anglers. To the fish, who will be the final judge of his prowess, form matters not at all.
From The Atlantic Salmon (1958)
Hunting Trout
I have all but sold my last few copies of Hunting Trout (Second edition, second impression, 2011). I had intended not to reprint any more, but almost every week orders for the book continue to come in. So I decided on one last reprint of 100 books only. They arrived on my doorstep this week. They are the same as the previous edition, with the cover image of the view over Birkhall Dam to the hills beyond, but the imprint page now states, Second edition, third impression, 2015.
After this there will be no further reprints. Third impression copies will sell for R205 with R45 to cover packaging and postage. Signed copies can be obtained by emailing me at This email address is being protected from spambots. You need JavaScript enabled to view it.">This email address is being protected from spambots. You need JavaScript enabled to view it. or from my website under the My Books menu.
Being a writer is a lonely life. You have little idea if your words have had any resonance at all, and if they have had, what that resonance was. Then out of the blue, I get a note like this one from Greg Carstens...
I can't recount the number of times I've read and re-read 'Shadows On the Stream Bed' and 'Hunting Trout'. Both are now dog-eared and well-loved companions on all my trips. I read a chapter before dosing off and dreaming of a region I know you love with the same passion I do...
Comments like Greg's make all the laborious hours spent writing seem suddenly so worthwhile.
Yet More Sweet Days
Just as an update, Dean Riphagen (proprietor of Frontier Fly Fishing and a man with an eye for words like a hawk for mice), is busy editing the last few chapters of my next book, Yet More Sweet Days. My daughter, Alison, will be doing the cover layout. My hope is for the book to be out before May next year.
Landscape photography workshop by award winning photographer, Brent Meistre
A landscape photography workshop limited to 12 participants will be held in Rhodes. It will be centred at the Walkerbouts Inn and will run from 28 April to 1 May 2016. The cost is R3500 per person excluding breakfast and dinner and accommodation. For more details contact Dave Walker at This email address is being protected from spambots. You need JavaScript enabled to view it.">This email address is being protected from spambots. You need JavaScript enabled to view it. or Brent at This email address is being protected from spambots. You need JavaScript enabled to view it.">This email address is being protected from spambots. You need JavaScript enabled to view it.
Notes from a fishing trip to the South Island, New Zealand, from John Dreyer
Says John:
My wife Paule and I just had a good trip to the South Island with the mountains streaked with snow and lupins and poppies along the banks and roads. We stayed at Twizel and fished the river of that name, then the Hakataramea Gorge on our own with pleasing, if not spectacular, results.
Got blown off the upper Grays, but fished the lower Grays the next day with Steve Carey ( a South Island guide) for some good fish. Then on the Tengawai, which was very, very low and with few fish, I disgraced myself by striking too hard on the only trout I got a dry fly to.
We abandoned the trickling Tengawai, and went to the Opihi. We caught some decent fish on this beautiful river, and on the way back, Steve took us to a small stream next to the road where I landed a 5 pounder on my 4-weight using a size 18 nymph. Steve then found two more decent fish in this little stream, but my wife Paule could not land them.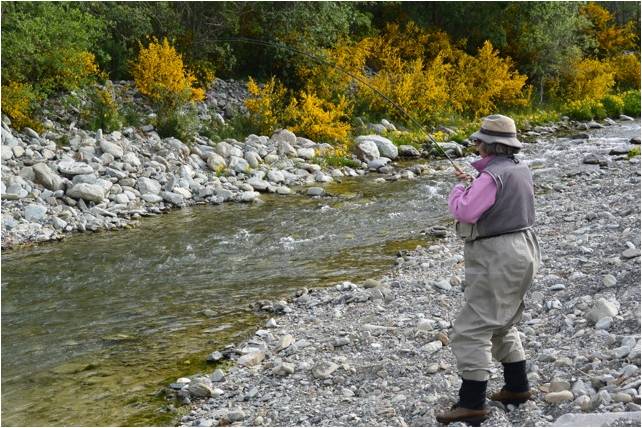 The little stream with five pound browns in it!
A not too difficult to spot fish in this little stream
We then over-nighted in Queenstown and went on to Te Anau, to the Oreti with Dean Bell as our guide and managed to break my hoodoo on that river with a 7 and a 5 lb plus brown. It was a great day as the river was coloured, and a cold wind was gusting strongly.
Paule with a decent trout from the Eglington
Next day on the Eglington was magic. Great weather and both Paule and I landed six fish each, hers the biggest at 6 pounds. Several of the fish had sheltered in side streams from some heavy flows in the main river caused by rain over the weekend and responded to dry flies. I lost one big rainbow (the only non-brown trout of the trip that I can remember ) that simply took off downstream and popped the tippet with the pressure of the line.
The Borland River
On the last day with Dean we went to the Borland, a new river for us and I cast to and landed three fish (two on dry fly) between 5 and 6 lbs. Like Little Jack Horner I felt very pleased with myself.
Into a fish on a new river, the Borland
The author with a lovely brown trout
But one needs to treasure such rare moments.
The next day Paule and I went to the Upuk River and could not buy a fish. I only saw one, and finally, on the last day Paule went off to Doubtful Sound while I fished in strong wind and rain on the Mararoa until thoroughly soaked. I decided I had caught enough fish to satisfy myself we could catch fish without a guide. Accommodation was very good at both places and we ate well especially in Queenstown at Rata before the flight back!
Gear wanted
Says Clayton van der Meer:
I am looking for a used Sage XP 4 piece, 5-weight rod.
Contact Clayton at This email address is being protected from spambots. You need JavaScript enabled to view it.">This email address is being protected from spambots. You need JavaScript enabled to view it. or on cell phone at 0824153926
KZN report from Jan Korrubel
I am pleased to report that we have received some rain here in the Midlands – I have recorded just over 80mm since the start of the month, the same as we received in total for the previous two months! The rain has come primarily from late afternoon thunderstorm activity, so let's hope that the summer cycle is setting in and the trend continues.
However, my records for the same period over the last couple of years indicate that we are still some 50% behind in precipitation received, and clearly need some more to get the rivers moving and the stillwater levels up.
Here are some photos taken by Richard White last week Thursday, of the Mooi River, starting up in the Kamberg Nature Reserve, then at the Moller's Riverside Farm, and the Thendele section, which is between them.
The Mooi, Kamberg Nature Reserve by Richard White
Riverside by Mat Haden
Thendele by Richard White
While I haven't had any reports of anglers on the rivers, some of the fuller stillwaters are producing fish. With water surface temperatures on the warm side now, the techniques to getting fish will be to fish deep and slow, as the fish will be on the bottom in the cooler water. For those practising Catch-and-Release, use one tippet size up so you can horse the fish up though the dangerous warmer waters near the surface and release it quickly. Light tippets mean a protracted fight with a decreased chance of survival.
Post script! Having written this, we just got a hailstorm of note in Nottingham Road and hopefully some rains inland!
Photos of Nottingham Road by Jan Korrubel
May I take this opportunity to wish you and all your readers a very Merry Xmas and a Happy New Year – I look forward to continuing this column in 2016 (a mere 12 days away!)
Passing shots...
The first, from Oliver Kite's book, A Fisherman's Diary.
A friend from the next village went with a companion last year to fish for salmon and sea trout on a remote Hebridean loch. They were sharing a rod, using a point fly and one dropper, when the companion had the misfortune to hook the two Gaelic-speaking ghillies simultaneously, each on a separate fly, each through the right ear. My friend comes from the West of Ireland, and himself speaks a fair bit of the ancient tongue. In the next few minutes, he tells me, he learnt a great deal more!
The second, from Patrick McManus's book, Never Sniff A Gift Fish.
The best evidence I've been able to come up with that the human race is increasing in intelligence is that parents no longer give their kids hatchets for Christmas.
When I was a boy, the hatchet was a Christmas gift commonly bestowed on children. In an attempt to cover up their lapse of sanity, parents would tell their offspring, 'Now don't chop anything'
Intern year needed in chemical engineering
A strange topic for a fly fishing newsletter, I know, but my daughter, Alison, has a friend who is desperately looking for employment as an intern in 2016 with a company involved in chemical engineering. Her name is Ines Simbi and she is prepared to work anywhere in South Africa, but would obviously prefer the Cape Town area as she lives here with her parents. If you have any ideas that might help, could you contact me on This email address is being protected from spambots. You need JavaScript enabled to view it.">This email address is being protected from spambots. You need JavaScript enabled to view it. . Full CV and motivation available on request.
Answers to the quiz:
1. Skues wrote under all of these noms de plum at one time or another.
2. Skues and Theodore Gordon corresponded for many years. Gordon wrote his last letter to Skues in 1908. It was that last letter Gordon ever wrote.
3. Yes they met at the Nadder Vale Hotel in Wiltshire. They corresponded and Skues encouraged Sawyer to write about nymph fishing.
Wishing you wonderful fishing in 2016
Tom Sutcliffe