The ten best technical freshwater fly fishing books of the decade -
I had an email from a person who remarked that he enjoyed my frequent reference to angling books that concerned the more philosophical aspects of our sport, or books where the quality of the prose shone through strongly enough to make them worthy of mentioning on that account alone; books from authors like Harry Middleton, Thomas McGuire, Robert Traver, Steven Meyers, John Gierach and so on.
But he then went on to ask me what I thought were the 10 best technical books of the last decade. That's a tough question, but I had a week to dwell on it. I drew up my list and then ran it by my good friend and fly fishing guru, Ed Herbst, who with a minor difference, gave it the thumbs up.
My problem was that in the last decade enough technical books were published to make your head giddy. So I reluctantly ended up leaving out some good ones; books like Dave Hughes' Trout from Small Streams (recently updated) and his Nymphs for Streams and Stillwaters, released in 2009. Also left out were 101 Trout Tips: A Guide's Secrets, Tactics, and Techniques by Landon Meyer, Trout Sense: A Fly Fisher's Guide to What Trout See, Hear, and Smell by Jason Randall and What Trout Want by Bob Wyatt, highly rated by Ed Herbst and a book he would have included.
Remember, though, that this is my personal view and I accept there's plenty of room for debate and counter-argument. So here's my list:
Selectivity: The Theory & Method of Fly Fishing for Fussy Trout, Salmon, & Steelhead by Matt Supinski
This is a well-reasoned and fabulous read and whether you are into trout, fly tying, salmon or steelhead, you will learn from it. Supinski brings half a century of fly fishing experience to bear on selectivity and provides telling anecdotes of how trout become more difficult to catch as a result of fishing pressure.
Nature of Fly Casting - A modular Approach By Jasson Borger.
If Jasson's book doesn't improve your casting I'll stand you a trip to Alaska. Its well written and illustreated too
Fly Fishing Outside the Box – Emerging Heresies
by Peter Hayes
Well, we all raved about this book when it first came out and we still do. It's an entirely fresh take on dry fly fishing, selectivity, pattern design and presentation.
Guide Flies by Tim Rolston (also available in e-book form).
This is pure gold dust. It combines step-by-step computer-generated drawings, text and videos on tying the flies that Tim, the premier guide on Western Cape trout streams, has come to rely on, or, more importantly, has come to rely on fooling fussy fish for his clients. It's also my firm view these patterns will catch fish anywhere in the world.
Dynamic Nymphing: Tactics, Techniques, and Flies from Around the World by George Daniel.
This is rated state of the art, cutting edge stuff. George Daniel, has fished competitively for the USA so, as you would expect, there's much in the book about Czech, Polish and French nymphing.
Tying Emergers – A Complete guide by Ted Leeson and Jim Schollmeyer.
Two of fly-fishing's most well respected writers collaborated to write this detailed expose on tying emergers, including their design, materials needed and basic and specialized tying techniques.
Trout Hunter – The Way of an Angler by Rene Harrop
Perhaps less didactic than the other books in this list, its technical scope is nevertheless wide, interesting and useful. You will also get valuable insights into this great angler and the importance of understanding the natural environment you fish in.
Trout Hunting: The Pursuit of Happiness by Bob Wyatt
This is a most practical and useful book that again explodes some myths on selectivity and adds useful ideas on presentation.
Presentation Fly-Fishing – The Definitive Guide to Advanced Techniques by Jeremy Lucas
I found this well written book very interesting. Lucas's challengingly minimalist approach and techniques will no doubt improve your presentation and your catch rate, but they will take some practise!
Tying and Fishing Tailwater Flies by Pat Dorsey
This book provides patterns, tying steps and techniques for an eclectic collection of flies suitable not just for tailwaters, but for rivers and streams anywhere. He also includes detailed information on how to fish these patterns. I found it a really useful read.
Johan Nel writes
With reference to your comments regarding dogs and fishing here is Leila, a well behaved Jack Russell on the Vaal River. Thought you might like the photo.
Click in images to enlarge

I do, Johan, and thank you. And here is my less well-behaved Jack Russell, Polly, doing some delicate, low-profile wading.
If any of my subscribers have dogs in fly fishing photos I'd love to post them.
Damon Mathfield with some news and pictures from New Zealand
I thought I would send you some more images of my fly fishing experience in NZ. In the beginning of February I fished the infamous Lake Otamangakau.
It provides wilderness fishing on a lake to the south-west of Lake Taupo. It is set high in moorland country with Mount Tongariro in the background.
It has a barren beauty and sense of isolation.
The weather can be bleak and cold, or shimmeringly hot. Being very exposed, wind can be a problem at times. This lake was chosen as one of the venues for the 28th World's Fly Fishing Championship in 2008.
Gary Preston, formally of Stealth Fly Fishing in South Africa, with a beautiful rainbow from the lake
I also fished the mighty Tongariro again. Here are a few images from this great river and examples of the flies we used.
The Tongariro River and some of the flies used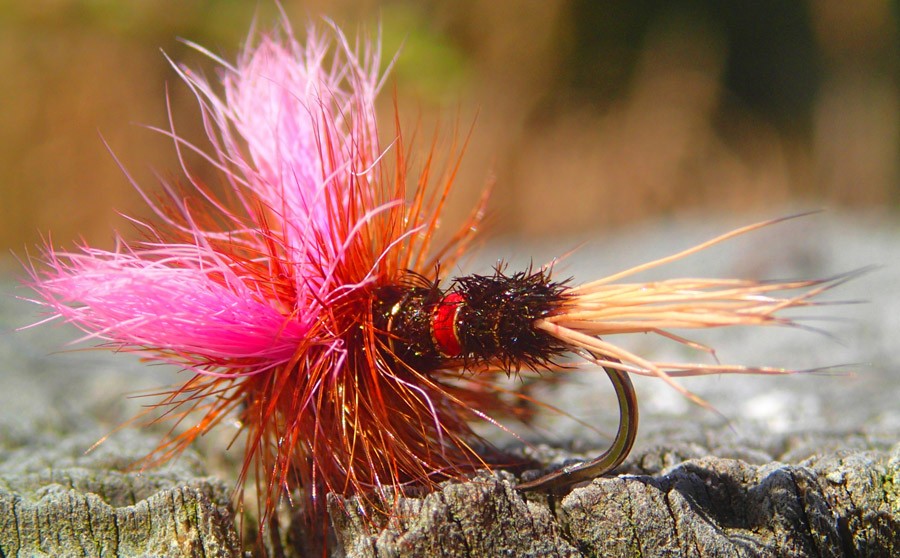 Damon Mathfield
Billy de Jong on capturing perfect slow-shutter-speed, silky stream scenes like this…
Says Billy:
Not claiming that I am an expert by any stretch of the imagination, but the tips relating to misty water shots that I have picked up over time are as follows:
You need at least a third of your shot to be moving water. A little rapid somewhere in the shot just looks odd. So either find a large enough waterfall or rapid or get close enough to some moving water so that you can get at least a third of you shot blurred.
You will need more than 3 seconds of open shutter time to get smooth water without bubbles creating stripes in the image.
To open your shutter for more than 3 seconds, it must be very early or late in the day without any direct sunlight around. We often evaluate spots while fishing and come back to them to set up late in the afternoon for a few snaps.
Due to the longer shutter speed, your image will come out vibrant even though you don't see all the colours during the low light conditions, so get your colour composition right.
Seeing that you can't photograph anything that has direct sunlight on it, you have about 10 minutes in most areas from when the direct sun has disappeared until it becomes too dark to photograph. The trick is to plan your shots before the golden few minutes arrive so that you don't start looking for a new angle and waste precious seconds. Play with your ISO and aperture so that you get around 4 seconds per image. This gives the nice misty water effect without bubble lines. If you plan your shots before the golden few minutes, if you have to move location you know where you have to go.
Tell your subject when you are about to shoot so that he or she stands dead still and tell them when the shutter is closed again.
Don't try to shoot a 4 second shutter shot without a tripod and use the remote shutter or time release to prevent camera shake.
Hope these pointers help with those silky water shots.
Spanish salmon, sea trout and chalkstream fly fishing is likely to amount to far more than you imagined
There is a rich diversity in Spanish fly fishing that I never knew existed. They have some delightful chalk streams inland of Madrid with wild brown trout in them and rivers like the Tormes, a massive chalk stream that produces really large brown trout. And then there is sea trout fishing (on tiny size 24 dry flies, if you can believe it) and great fly fishing for large barbel as well.
Images of delightful Spanish chalkstreams and their wild brown trout
The mighty Tormes and two brown trout from it
I will be posting more images of what Spain offers on my main website soon, but if you are interested here's a link to Gordon Van der Spuy's friend Luis Meana. He's a fly fishing legend in this country, a fly guide, author, outfitter, fly tier and an expert on Coq de Leon hackles as well.
Dry fly pattern by Luis Meana
See http://www.pardondemeana.com/en/pesca_guiada.aspx or contact Luis at This email address is being protected from spambots. You need JavaScript enabled to view it.">This email address is being protected from spambots. You need JavaScript enabled to view it..
For the fly fisher who has it all Frontier Fly Fishing offers...
Says Tom Lewin
Picture the scene. You're way up a beautiful stream with your fishing buddy. You've both had the fishing of your lives and as you sit, taking a break from the action, you say to your mate "fancy an espresso?" For the ultimate on-stream treat the Italian-made Handpresso kit is the absolute last word! Just add boiling water from the flask provided, add an Illy espresso sachet or your own grounds, pump up the pressure and voila - a piping hot, high-quality espresso!
Everything fits into a compact, protective pack. This is a high quality product and perfect for the fly-fisher looking for a little on-stream luxury and at the very least it's bound to make one hell of an impression!
Images of the week from Wolf Avni of his own slice of heaven, Giant's Cup Wilderness
Anyone wishing to rent a cottage to fish this slice of paradise go to Giants Cup Wilderness at This email address is being protected from spambots. You need JavaScript enabled to view it.">This email address is being protected from spambots. You need JavaScript enabled to view it. or http://www.giantscup.co.za
FOSAF needs funds
I had a call from fellow fly fisher, Graeme Steart in KZN, who pointed me in the direction of an entry on a Facebook page, Trout Talk, run by Terry Andrews. I quote from the page, wholly endorse the need for as many of us possible to contribute to FOSAF and will be making my own contribution soon.
Says Graeme Steart:
Graeme Kerr suggested a great idea the other day that every member of this Facebook group donate R100 to FOSAF in an attempt to save Trout in RSA. My thoughts are this... We quite easily put in R100 of fuel in or tanks to go fishing, or R100 to buy pizza on a Sunday while we watch TV...
I think it's a great idea and many small contributions can make such a big difference.
I don't know about you guys, but I don't need a full audit to be done on how the funds are used... at least I can hold my head up and say that I personally did something (as small as it is) to better the future of trout is South Africa.
I'm gonna start by depositing R100 in FOSAF account and challenge EVERY member of the group to do the same!
By the way FOSAF's banking details are as follows as per their website
DIRECT BANKING: NEDBANK BRANCH CODE 168405
A/C NO 1684018188
A/C NAME: FOSAF
Quote of the week
I wish I drank enough to make ice fishing seem interesting. It would make Maine's long winters so much more entertaining and purposeful. Ice fishing I mean, not drinking.
River Music – A Fly fisher's four Seasons by James Babb.
Jan Korrubel's KZN report
After the blistering heat of earlier in the month, temperatures finally cooled and I am pleased to report that the stillwaters are following suit. After some dangerously high temperatures of close on 25deg.C in the peak of the heat wave, reports this week are of 20deg.C. Anglers have been scarce in the heat, but with the drop in temps, I am sure the fishing will heat right back up!
As for the rivers, there have been no incoming reports.
The rainfall also appears to be slowing. I recorded 107mm for January here in Nottingham Road, and after a good long thunderstorm that that brought 18mm yesterday, I am sitting just short of 50mm for the month so far. Yesterday's storm had wider-reaching effects – reports are of some 35-40mm in Hilton and Pietermaritzburg yesterday.
Tom Sutcliffe