OPENING THE FISHING FOR 2012 and reflections on litter – BEAT 6, SMALBLAAR RIVER, WESTERN CAPE
The Smalblaar River runs in the mountains in the du Toit's Kloof valley, in an area known as the Limietberg, a world heritage site an hour out of Cape Town.
You park a short way off the thundering N1 highway carrying the mainstream of traffic from Cape Town to the rest of inland South Africa, including a disproportionate number of massive 26 wheeler trucks.
Sometimes wading in the stream you hear the staccato cracking sound of the truck's air breaks, but otherwise the close proximity of the river to the highway soon gets lost from your consciousness. Sadly we found that the start to the long trail into this wonderful heritage site marred by assorted litter lying spread around an overflowing garbage bin at the car park.
Whose fault is it? Well Cape Nature should put up their hands, but maybe we anglers should as well. Next time I'm up there I'm going to take a few bin bags to clear some of the mess. Maybe Cape Piscatorial Society members, plus the countless hikers who use the Krom River trail, should do the same.
From the car park you walk down a gravel service road that takes you across a bridge over the river, then cut in left onto a path for ten minutes to where the fishing begins. For the next few hours you have a lovely stream ahead of you.
Darryl fishing just below the Junction Pool
To begin with the river is wide for a few hundred metres, until you get beyond where the Elandspad River joins the Smalblaar at the Junction Pool under a maze of highway bridges
but once in beat 6 proper, the Smalblaar halves in size,
Beat 6 'proper' above
even though it takes in the gin clear waters of the Krom River a kilometre or more upstream. The Krom can be a lovely small stream to fish in its own right, meaning very tiny, absurdly clear and extremely rugged in its higher reaches.
The Krom River just above its confluence with Beat 6 of the Smalblaar
So Beat 6 is a smallish, quick-flowing and compact beat and sight fishing for rainbows and brown trout is relatively easy. You just have to watch your back cast for trees and be happy at times threading the odd cast under low hanging branches.
Easily spotted rainbow in mid stream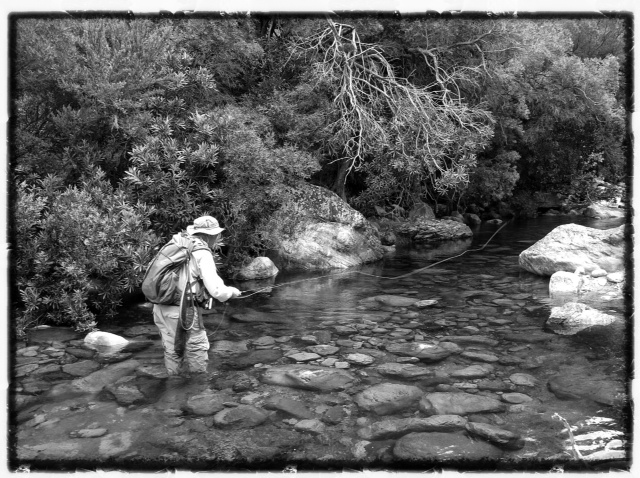 Threading the back cast under low hanging branches. Picture on the day by Darryl Lampert
The fish tend to be smaller than they are in other beats of the Smalblaar, though I never much mind catching smaller trout, more so on dry fly.
Smaller rainbows aren't uncommon
But here and there a big fish will show up – say over 15 inches – and with enough certainty for them not to be that uncommon. So all in all this is a beat of the Smalblaar that has plenty going for it.
Lovely brown
At midday I got myself a beautiful brown trout that Darryl Lampert spotted for me. I must have had five or six casts over the fish before he ate a small nymph rigged under one of Darryl's dainty CdC mayfly patterns. The fish had the most beautiful markings with a white tipped anal fin and when I released it, it was gone in a wink.
The white tipped anal fin
Release
We climbed out of the river around 3.30 and cut uphill to a hiking path I've walked many times before and never given a passing thought to. But since the Working for Water teams have cleared the alien vegetation from the edges of the path a few giddy drops have been exposed that we had never really noticed before; drops that seem to be near enough to a sheer to make little difference, drops of at least a hundred metres down into a rock filled streambed.
Walking the path out (Darryl Lampert photos)
Strange how once you know how close to a plunge into eternity you actually are, a path can suddenly seem narrower, take on a totally different spectre, become 'dangerous, risky, vertigo inducing', whatever. It's all in the mind because in fact the path is dead easy and dead safe.
Later that afternoon Darryl got himself a couple of really handsome rainbows at the junction pool where we stopped to fish a while on the walk out.
Tom Sutcliffe January 5th 2012