- In search of Golden Dorado, a lovely Richtersveld trip, Andrew Apsey's fly-fishing journey Part Two, Jan Korrubel on stream fishing conditions in KZN, Greg Carstens reports on his fishing last week around Rhodes in the Eastern Cape Highlands and thoughts from Ed Herbst –
*
The year rushes by, the months sprinkled with touches of rain, the Cape streams looking not too bad despite the dryness of the last two winters and some good trout are still being caught.
Earlier this week I dropped in on Ed Herbst. I found Pete Brigg with him on a short visit to Cape Town, and together they were signing the limited edition copies of their book, South African Fishing Flies. Happily for them, Ed tells me all the limited edition copies are sold. Then that evening they had a busy time signing books at the Cape Piscatorial Society, but more about that later in the newsletter from Ed.
Click in images to enlarge them
Ed Herbst and Peter Brigg with a happy task at hand
It really was good to see Pete again, but sadly, due to time constraints, he had to turn down offers to do some some dry fly fishing.
Golden Dorado from Clem Booth
Says Clem:
The inaugural adventure in search of Golden Dorado in the Parana Delta north of Buenos Aires was – in a word – astonishing.
The fish are plentiful and at times almost unbelievably aggressive. Over the course of the week, it occurred to me that their behaviour was akin to a gang of thugs armed with chainsaws. Bait fish are herded into the shallows and then decimated...lobbing a fly into the melee evokes an immediate response although not necessarily hook ups as these fish have toothy and bony mouths and setting the hook takes on a new meaning!
There are quite a few species to be caught including the prehistoric looking Wolf Fish or Tararira and the Palometa, a beautiful version of the Piranha.
A Palometa
For me, the most fun was fishing the little streams flowing out of the flooded areas of the Delta; as the water level recedes, so one is presented with fast flowing, shallow water courses packed with Golden Dorado. And I mean packed! Unforgettable fishing at times.
Fishing the little streams flowing out of the flooded areas of the Delta
My old friend, Luciano Alba, of ELV Lodge, Lago Strobel fame and his delightful father Roberto, recently started what looks to me to be a highly successful venture - Golden Dorado River Cruiser – on the mighty Parana River system; I travelled with a few friends including Pete Cockwill who will be remembered by South African fly fishers for his visit here many years ago together with Lee Wulff, Gary Borger and other luminaries.
Golden Dorado River Cruiser
I needed to answer the question whether bamboo would work on these voracious predators; it does! My 8-weight from Chris Carlin in Alaska accounted for many fish!
Absolutely wonderful trip and in the words of General McArthur "I shall return! "
Dawid Rossouw writes:
Dawid Rossouw
My son Daniel and I had a lovely Richtersveld trip, but alas, the big ones ignored us. I'm not sure what the reason for this was. The water in the Orange River was extremely clear and we had a glorious full moon in the middle of our time there. At De Hoop the water clarity was such that one could see about two metres down when the sun was high. The water level and the flow were about normal for this time of year. It was clear that the yellowfish were much more skittish than they were when under normal conditions when the water is slightly turbid.
Daniel Rossouw a happy young man
In the slower and deeper runs we could clearly see really big smallmouth yellows holding, but nothing we did could entice those. Also, it was unusual not to find many smallmouths in the rapids. The water was so clear that short line nymphing only worked in the really fast water.
In the slower water I used a nymph suspended under a strike indicator and got a few medium smallmouths that way. It was great fun sight-fishing for yellows, just like trout, but it was not easy because they are difficult to approach without spooking them.
I also had one big take in a deep pool on a black zonker from a largemouth but sadly lost it all too soon. In all, we caught a heap of fish, but no big ones, for no reason that I can figure out. Most were smallmouths, but we also got a few mudfish. Daniel caught a tiny little tilapia (kurper), a first for us. It is quite pretty. We caught no largemouths.
Daniel with a tiny little tilapia
We got all our fish on caddis-type Czech nymphs and Brassies. Flies with an orange bead seemed to work well. I got fewer fish on exact imitations than I have in the past.
An interesting occurrence was mudfish spawning in the extreme shallows on the edge of a rapid that we observed one evening just before dark. Literally a hundred fish congregated, all dark grey in spawning colours. Their splashing is what attracted our attention. They were completely oblivious to our presence and we skirted around them. An hour later when we passed again, there was no sign of them.
In quieter moments we enjoyed reading South African Fishing Flies – An Anthology of Milestone Patterns the new book by Peter Brigg and Ed Herbst
Andrew Apsey's fly-fishing journey Part Two...
Andrew writes...
I recently returned from the American leg of my fishing adventure, having spent just over two months exploring central Colorado. I was based out of the picturesque little town of Crested Butte, about four hour's drive west of Denver and located in the county of Gunnison, which has 2000miles of fishable waters alone! It was an unforgettable adventure with everyday on the water providing nonstop learning, stunning scenery and incredible dry, nymph and fall streamer fishing. Browns, rainbows, cutbows, cutthroats, brookies and even a few Kokanee salmon were kind enough to fall for my flies.
I was fortunate to fish some amazing waters; Rivers like the Gunnison, Taylor, Eagle and the Arkansas, which ran crystal clear and full of fish. Backcounty creeks like the Chochetop and the Spring that meander through pasture meadows and whose browns had a particular liking for a duo of an Ed's hopper and a sunken ant. A special highlight was camping in the vast National Forests and hiking up to some of the spectacular alpine lakes, many of which lie at over 3000metres. Sight fishing to Colorado Cutthroats with small terrestrials patterns was worth every lung busting step of the hike.
Fortunately, there were no scary animal encounters, but plenty of deer, elk, beavers, muskrats, Golden and Bald Eagles. The fall colours of the aspens, willows and cottonwoods were nothing short of breath taking.
The hues of golden yellows, bright oranges and deep reds painted the vast mountain ranges that making the whole experience even more memorable. Someday I hope to explore more of Rockies with a fly rod in hand. There is just so much to see and so much water to fish!
I am pinching myself on a daily basis as I prepare to head off to New Zealand for the last leg of his amazing piscatorial journey. I will be sure to send a few fishing reports as I fish my way around the South Island over the next six weeks.
Again on behalf of the readers of this newsletter, I wish Andrew well.
Quote of the month
'I'm not a collector: I'm just not good at throwing things away'
Fred Buller, angling collector, historian and author, as taken from 'Buller's Last Words' an article by Keith Elliott published in Classic Angling No 106 March/April 2017.
Fred's last book, Domesday and Beyond – Memoires of an Angling Historian, sounds a really fabulous read.
Greg Carstens reports on his fishing last week around Rhodes in the Eastern Cape Highlands
Greg called me to say the Eastern Cape rivers around Rhodes were in fine condition, especially the Sterkspruit. He thought that the Bokspruit was a little low and glassy and the trout were touchy and nervous, And he gave the Bell a miss when it washed slightly grey after a storm.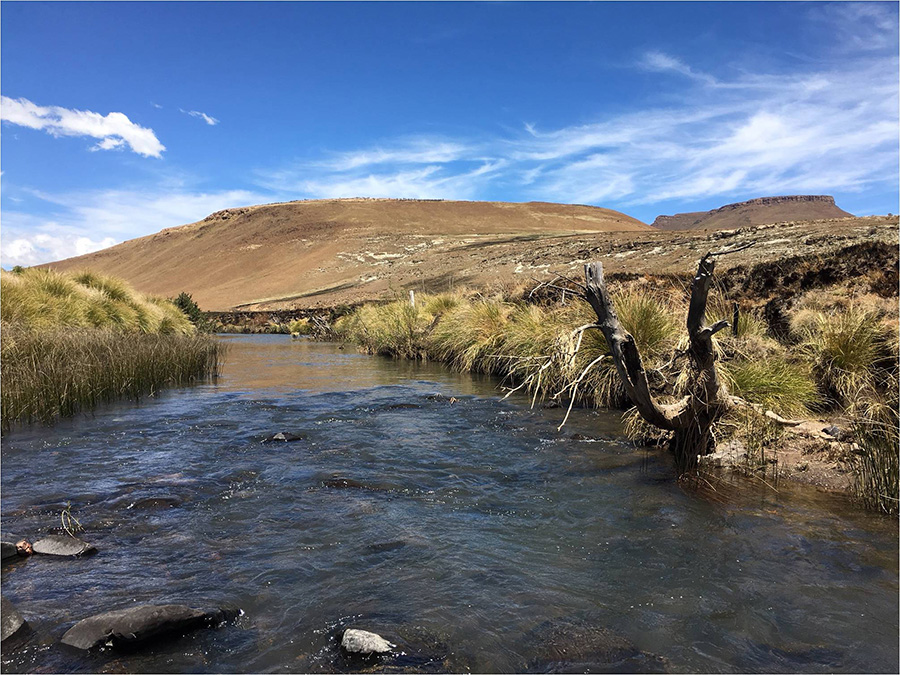 The Coldbrook looking so good you could pat it as it goes by.
He and his nephew, Shaun Carstens, caught fish consistently over a number of days on the Sterkspruit, right the way up from Birkhall to the Coldbrook, all wild fish of 12 to 14 inches, and all fat. Interesting was that Shaun hooked a monster on Branksome, a trout of easily five to six pounds. Not unexpectedly it snapped the tippet. Greg tells me the fish was holding in knee-deep water and that Shaun likened it to the sort of trout you'd expect to get at Highland Lodge, where the youngster has apparently caught plenty.
KwaZulu-Natal report from Jan Korrubel
Says Jan:
With my rain gauge at home touching the 180 mm mark by the middle of October, I had high expectations for my first (confirmed) guide of the river season (another had bailed earlier due to a bad weather forecast that never materialised...). Unfortunately it appeared that the river (Bushman's in this case) hadn't risen at all since my Opening Day visit of 1 September! A couple of possibilities might explain the situation : a) there has been less rain up top than what we got down below (we received over 200 mm for October in Nottingham Road, but I don't have a reliable source for rainfall up at the top), and b) what has fallen up there has gone straight in as a result of the previous drought conditions ... not a bad thing, as this will be topping up the water table, BUT we still need more rain to get the flows up.
On the day, however, the fish were willing and rising happily to the dry fly. Both Travis, and his dad Mike, were new to the river game, having just recently acquired 3wt outfits and struggled to get the fast rising brownies to stick. The Golden Rule of Guiding is that "The Guides Don't Fish", but after a good couple of on-off's, I had a rod thrust in my hand and a "Show us...". With reputation at stake, I lucked into a nice 10-incher on the third drift with a Para-RAB Emerger ... and then of course the chirps start : "So there are actually fish in this river that can be caught!" Such is a day in the life of a guide...reminds me of the title of Dave Ames' brilliant book "A Good Life Wasted: Or Twenty Years As A Fishing Guide"...
A nice 10-incher on the third drift with a Para-RAB Emerger
As the year rushes to an end, the Michaelhouse Fly Fishing Club (MFFC) recently held its end of year and awards dinner, and I was asked to make up fly lapel pins as gifts for the young anglers. With the school colours being red and white, and time somewhat of the essence, I came up with a simple old-school hair-wing streamer that was well received by the Club members and their parents.
Michaelhouse lapel pins
I then had a follow up request to design and tie another pin as a birthday gift for one of the young anglers - his favourite colours being green and blue – and a feather-wing streamer pin was born.
A feather-wing streamer pin
MFFC Club Master, Righardt Kotze, has taken the Club from strength to strength over the couple of years that he has been in residence, the MFFC producing no less than 3 Protea Youth anglers and the current SA Youth Champion in the last 2 years alone!
At the dinner, Righardt mentioned an interest in river fishing, so we arranged a day on the Bushman's River recently. I was even more dismayed, however, to see that the river had dropped by some 2 inches from when I was there mid-October. I seem to take pictures in pretty much the same spot every time I am on the river (see the comparison images below) only 2 weeks apart and note the drop in flow rate (less white water) and height (more rock sticking out). Note also that the veld at the back of the Reserve is still brown, while The Midlands around Nottingham Road is looking lush and green with the rain we have had.
Comparisons
As a result, the fish were holding in the deeper pools and slots, very few in the usual pebbled runs. Righardt also initially struggled to keep a reign on the quick browns, but his first fish landed was a cracking 11 inches on an Elk-hair Caddis, and then after a number of on-off's, followed by a solid 9-incher on a Klinkhamer. Unfortunately a hat-trick third fish evaded us on the day. But the small stream / dry fly bug has bitten him properly, and we have another date later in the month.
Righardt Kotze triumphant
The KZN weather has certainly been up and down over the last month – the initial summer heat wave of September gave way to couple of cold spells in October; there was even snow forecast one weekend! We are now back to the summer heat, with temperatures in the Midlands exceeding the 30deg.C mark. With Spring Grove Dam sitting at 77%, there is a good flow being released into the Mpofana, which flows into the Lions River, and then into the Umgeni River feeding Midmar (currently at 75%). With the good flows, and warming water, the Natal Yellowfish (or scalies) have started to move, the first report of fish coming just this week. I am looking forward to tackling a few of these "freshwater bonefish" myself this summer.
Umgeni River feeding Midmar – home of scalies
Looking at the long-term forecast, the Norwegians have us receiving a bit more rain over the next while...so here's hoping that trend continues before the heat polishes off what we have already received.
Ed Herbst writes...
Do light-line Spey rods have any application in South Africa?
Lyndon Webb, editor of Fly Lines, the monthly newsletter of the Victorian Fly-Fishers' Association in Melbourne wrote in an email:
'I've had a lot of fun recently playing around with a Redington 11'6" 3–weight micro spey rod. The 3-weight two-handed rod corresponds to a 6 weight in single-handed rods (the rod numbering system for two-handed rods is three less than for single-handed rods). The Redington is only about 4 ounces in weight, and you can cast it as a single-handed rod where it throws a line a country mile with that extra bit of leverage, but it also casts beautifully with proper spey lines and spey casting. It truly is a very pleasant item to use. We only really have one river in Victoria big enough to justify two-handed rods, and that's our Goulburn River, but I do fish still waters a lot, and I am confident it will be effective there.'
Would a Trout Spey rod have an application on our dams, estuaries and bigger rivers?
All the major rod manufacturers, Sage and Winston among others, have models on sale and a Google search provides several YouTube clips of them in action.
Meeting the publishing team
Peter Brigg and I have spent some enjoyable hours meeting the publishing team at Penguin Random House who produced our book, South African Fishing Flies –An Anthology of Milestone Patterns and then spent an evening signing copies at a Vice Squad meeting at the Cape Piscatorial Society.
It was a celebration of fly patterns which had their origins in the Western Cape. Peter demonstrated the techniques he has used to make Leonard Flemming's Wolf Spider more durable and quicker to tie, Leonard demonstrated his Sand Flea imitation which he developed for mullet, Darryl Lampert showed his Hi-Vis Midge which matches the hatch for Net Winged Midges and I demonstrated my imitation for the Simulid larva. Each of these flies is featured in the book.
Leonard Flemming tying his dry fly for mullet – the Sand Flea
Two copies signed by Peter and I have been donated as lottery prizes for the annual CPS River Festival which is being held this year on Ernst and Anchen Stofberg's farm on the Holsloot stream near Rawsonville. Tudor Caradoc-Davies interviewed Peter and I for the Mission Magazine website on how the book came about.
Hackling with a difference...
The internet has played a significant role in the evolution of fly tying and I am indebted to Peter for giving me a link to a fascinating but simple hackling technique for dry flies and parachute patterns.
Tiemco's magnetic bobbin holder
The new Tiemco magnetic bobbin holder has greatly enhanced my fly tying in the past month and I feel that it is a significant improvement on traditional designs. It is very comfortable to hold and the tension on the thread can be finely adjusted so that it comes off the bobbin with exactly the right pressure.
I think we're in for some wonderful fishing in this part of the world over the next few months.
Tom Sutcliffe