SPOTTING TROUT PART FOUR
In this exercise I will include the pictures I want you to study, but the answer pictures (where the fish has a neat black rectangle around it) will all be at the end of this section and in sequential order.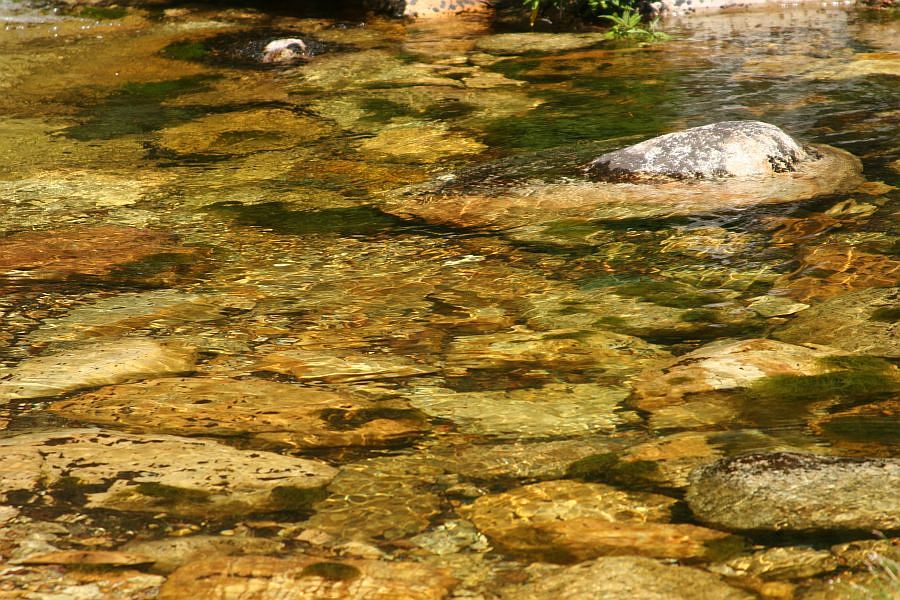 Let's start with a simple, straight forward spot using some of the techniques you have learned up to now. Of particular relevance in the picture above is the draped shadow and the effect of contrast of the fish against the stream bed. This is a simple sighting where not much else in this run could be mistaken for a trout. In the photograph below the shadow of this fish becomes even more prominent as it changes its position slightly.
Above is a marginally more difficult sighting, a trout in a wide open run. In contrast to the previous picture there are quite a few potential sightings here and you would have to eliminate them on stream by watching for movement and looking very carefully for draped shadows. By way of interest I will add a few of the potential 'sightings' in this picture that I would study (see the marked possibilities at the end of this piece. I quickly got to seven.) But only one potential sighting has a give-away corresponding shadow under it, although two more 'shadows' are suspicious I will admit. Those ones you have to watch for movement. Tough call from a picture to see this fish, but it's a sighting you should be able to make. And the shadow here, though foreshortened, is definitely draped.
The above sighting, in a limpid run in the Holsloot River, is a killer. I picked this trout up quite easily though, but only because it was moving around a great deal and well on the feed. We eventually caught him, but watch how far he travels. In the picture above the draped shadow and contrast are again give-aways.
The picture above is of the same fish, now much easier to see because he is side on and contrasting nicely with the underlying stones. Note again the draped shadow.
But see if you can spot the same fish in the picture above and then compare it to where you first sighted this fish. As usual the shadow is there.
Above is a fish in an unusual position and he is just the sort of fish you spook when you hurry onto a pool. No clues – he's easy.
In the picture above the same fish moves out to feed and for a moment he is as plain as the nose on your face.
The final picture above should be an easy, almost instinctive spotting. The fish is lying in a totally predictable position, but again his position emphasises the need to creep up onto runs very carefully. There is very little by way of shadow to see but the hint of a dark triangle from the tail fin is there.
HERE ARE THE ANSWERS
Above are the possible trout, below the actual fish